Theophilus Pugh Cox


T P Cox appeared as a teacher at the Collegiate School in 1868, but, by August 1871 he had decided to move on and became involved with a new school sponsored by Enos Nuttall, then the incumbent at St George's Church.
Daily Gleaner

, August 4, 1871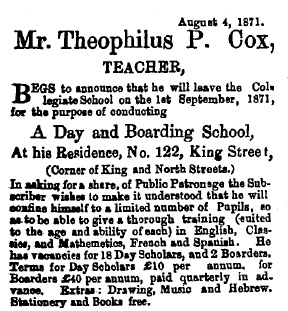 Daily Gleaner

, January 9, 1872


The establishment of this school linked to
St George's may have been a first attempt
to provide a Church of England school as
an alternative to the Roman Catholic St
George's College, and the Collegiate School
with its strong links to the Presbyterian
church. It is also perhaps significant that
1872 was the year in which Sir John Peter
Grant's plan to disestablish the Church of
England in Jamaica came into effect, and
the Church was facing a severe reduction
of its status.

Daily Gleaner

, March 21, 1872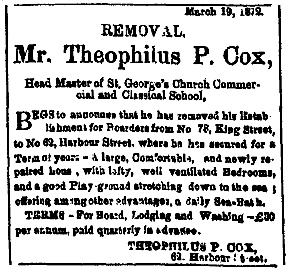 Daily Gleaner

, July 6, 1872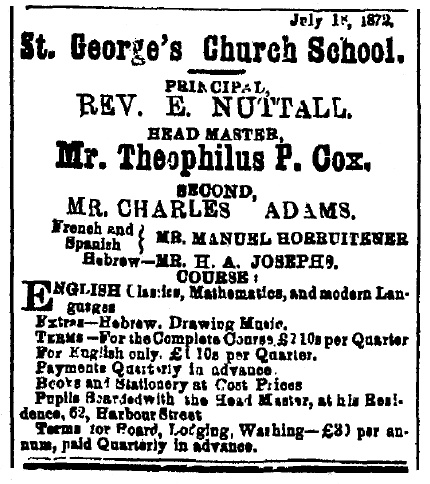 Daily Gleaner

, November 9, 1872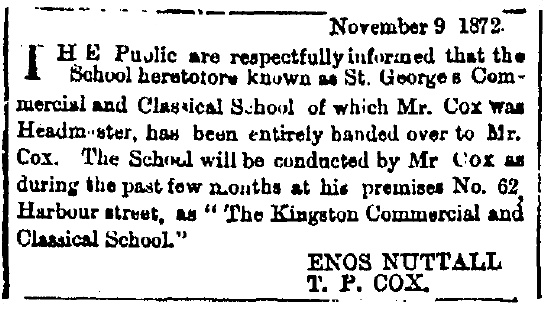 Daily Gleaner

, July 3, 1873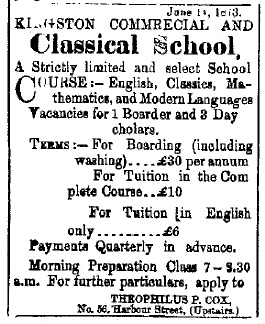 Daily Gleaner

, April 18, 1874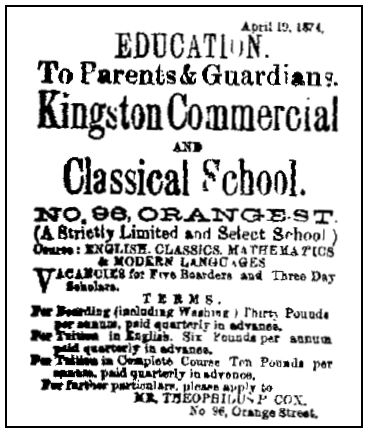 As the surrounding items show, the collaboration
between Nuttall and Cox did not last long. By the
end of 1872 Cox's school had been moved to
Harbour Street and was no longer linked to St
George's Church. The school survived until the
early months of 1874, by then located on Orange
Street. The smallpox scare of that summer may
have caused the permanent closing of Cox's
school, which was no longer advertised after that
time. T P Cox, in any case, quickly moved on to
another, more secure, headship.

Daily Gleaner

, February 1, 1875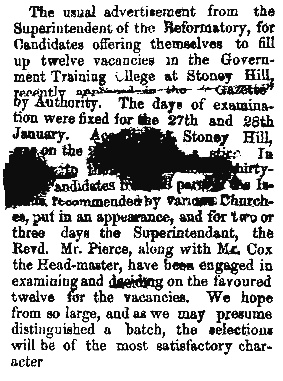 In 1875 T P Cox was already headmaster of the Government Training College in Stoney Hill, as the item on the left shows. A few sparse references later indicate that he became tutor at the Training College in Spanish Town, and held this position until the College was closed in 1890/1, because of the declining results achieved by students at the College. After that he received a government pension of £143 on a salary of £373 for what was stated to be 14 years of service.
So far I know nothing further of T P Cox, but according to Who's Who in Jamaica, 1916, his son, Edward Fraser Hamilton Cox, was admitted as a barrister in Jamaica 5/2/1910, and elected member of the Legislative Council for St. Andrew in 1915.