'I deem it also right to mention that in accomplishing those results whatever they may be we do not get a half penny in the form of Government aid or grant nor have we at our back any Denominational support or patronage. It is true that this school was founded by a distinguished Minister of the Church of Scotland, the Rev. John Radcliffe, . . . but, neither he, nor those who have succeeded him, have ever received any help from
the Church so far as the school is concerned.'
William Morrison speaking at the Collegiate School prize giving in August 1895

Daily Gleaner, August 10, 1895
This was the continuing basis of the Collegiate School with William Morrison as Principal.

This extract from an account of William Morrison and his school comes from The Capitals of Jamaica, 1955, p 92:


The map shows the location of the original Collegiate School on Church Street, and the two locations of William Morrison's Kingston Collegiate School; from 1890 to 1902 it was located at the south-west corner of the Orange Street/North Street crossroads. In Jamaica Pie written in 1943 'JB' took his readers around Kingston as he had known it half a century before: this is how he wrote of Morrison and his school -
". . . here at the south-west corner, the house No. 135 Orange Street still retaining its character, we will halt a while. A notable lives there.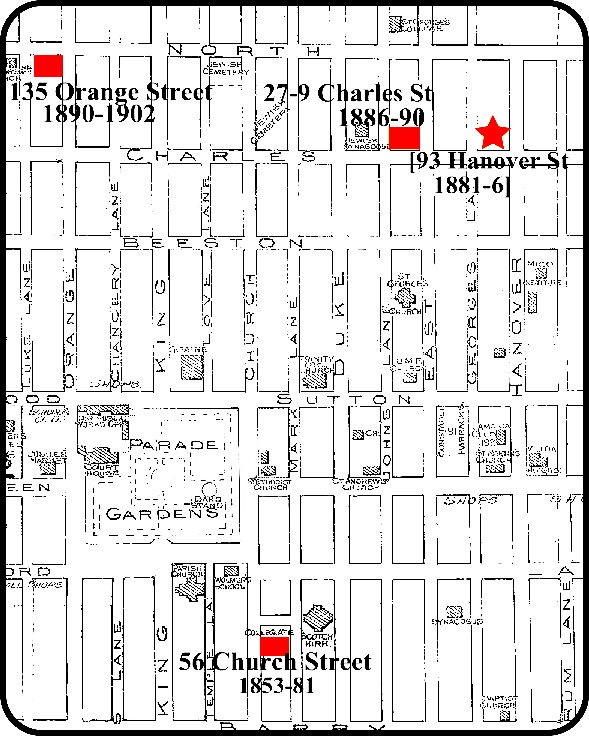 *The amalgamated school was located at 93 Hanover Street, 1881-6.
The Kingston Collegiate School is also established there, to which school many men living now in the autumn of their lives, and who have attained to prominence or success owe a debt of gratitude.
Character was moulded there, as well as knowledge imparted. The principal is a handsome, well-built gentleman, fresh complexioned, with luxuriant silvery hair. His manner is direct and pleasant. he is an educationist, a man of letters, a newspaper editor, a lover of Jamaica, and a poet of some merit. He is also a Scot, and his name is William Morrison."
Daily Gleaner
, July 31, 1890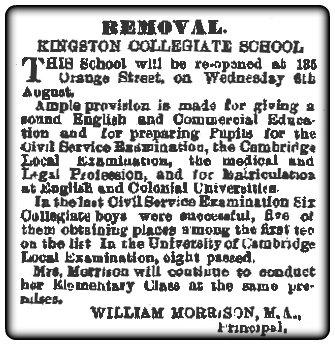 Daily Gleaner

, January 22, 1891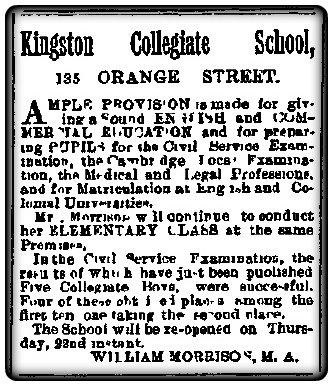 Daily Gleaner

, January 20, 1900