Kingston Cricket Club,

founded in 1863 in an upstairs room at the Collegiate School on Church Street
Even nearly two decades after its founding the Kingston Cricket Club seems

to have been continuing to attempt to find its place as a cricketing institution.

Daily Gleaner, February 26, 1880

THE KINGSTON CRICKET CLUB.
The Report of the Kingston Cricket Club, presented at the Annual General Meeting in January, shows a flourishing state of affairs. The number of playing members on the books is 67, of honorary members, 42; showing an increase of 33 playing members and of 7 honorary members during the year. The Club played seven matches against Officers of N. A. and W. I. squadron, Officers of the Army and Navy in Jamaica, Officers of Port Royal Garrison, 1st West India Regiment, and the Vere C.C. The Club was victorious in all these matches save one. The Presentation Bat was won by Mr. F. Kemble with an average of 16½ runs per match, and the bag by Mr. A. H. Miles with an average of 4½ runs per wicket. The Club has endeavored to secure, either by purchase or lease, a suitable piece of ground within a convenient distance of Kingston as a Cricket ground, but, being unsuccessful, it will, through the kindness of the Hon. H. F. Colthirst, continue to enjoy the use of a portion of the grounds of Paradise Pen. The following gentlemen have been elected to serve as Managing Committee for 1880: - L.B. Fyfe, Captain; F. G. M. Lynch, Hon. secretary; ?. L. Roxburgh,Treasurer; E. N. Marshall; F. B. Grant; G. H. Pearce; A. H. Miles; J. A. Robeson; W. A. Henderson. The finances of the Club are sound. Recent additions to the playing membership have proved very useful, and the Club bids fair to maintain during the present year the position it had reached at the close of 1879. The happiest results will be gained, we believe, by the recent extension of the prize system to the " organised" matches played amongst the members on the home ground. It is to be regretted that matches are not played more frequently between Kingston and other Parishes. The Kingston Club Committee tried to arrange a few such matches last year but without success.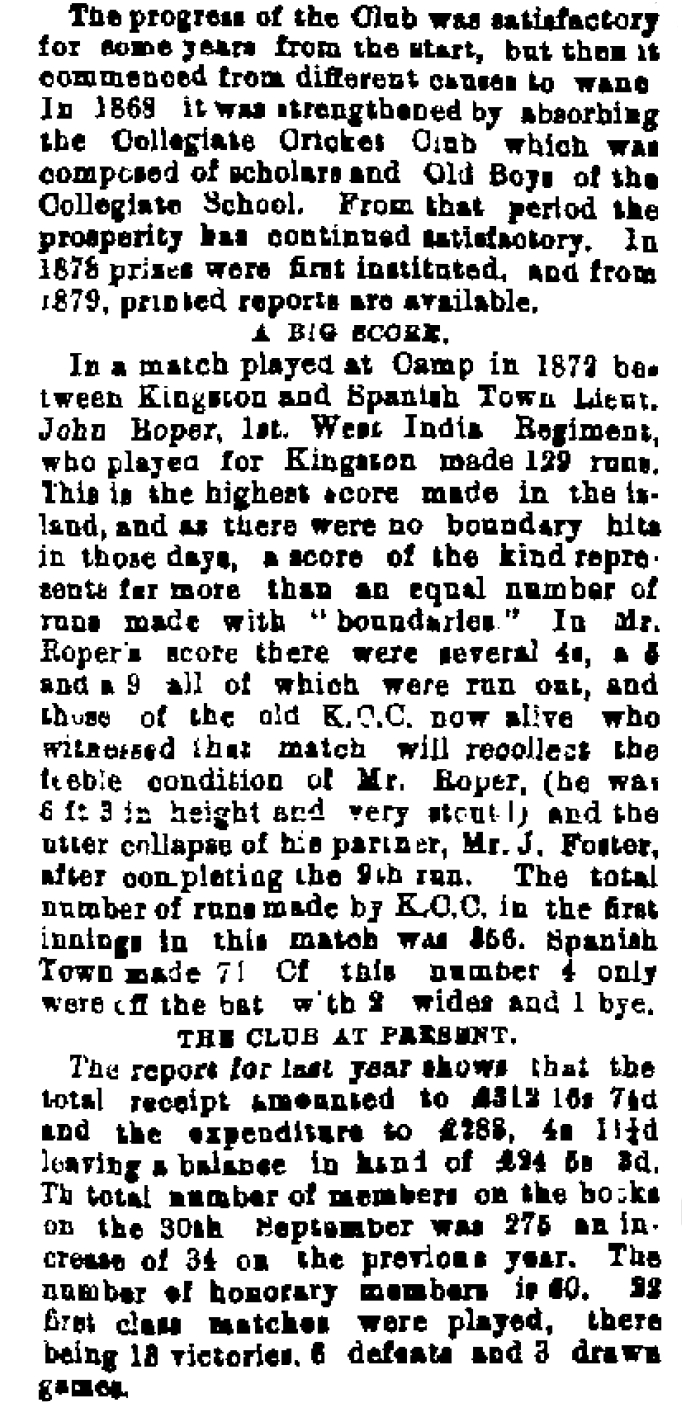 Daily Gleaner, June 12, 1894